DigiTool DBI-002 Flight Instrument Pack


The DBI-002 is the first fully integrated flight instrument pack designed specifically for free balloon use.


Small, rugged, easy attachable

Constructed to survive most pilots DBI is custom designed with a strong aluminium housing. It fixes quickly to your basket with a strong Velcro strap. The DBI comes with a 2 year warranty.

Easy to Operate

The DBI shows everything on one clear display. It is easily operated with only three push buttons to set instrument ON or OFF, set barometric pressure and to start or stop elapsed timer.


Wireless Envelope Temperature Transmitter

The envelope temperature sensor sends information wirelessly to the DBI so you always know how hot you are flying. A maximum temperature alarm sounds when it is getting too warm up there.

Flight recorder and Barograph

The built in flight recorder stores all flight data until you next connect to a PC when you can download and review your flight as a barograph chart. The DBI can also be used as a competition barograph.

DBI electronic Log Book

Flight information is stored for transfer to DBI Amigo, our free electronic logbook software.

Custom Configuration

Customize the operation of the DBI to suit your own requirements. Set altitude in feet or meters, pressure in hPa or inHg, temperature in Fahrenheit or Celsius and so on. You can also set your own thresholds for sound alarms for maximum climb, descent altitude and envelope temperature.

Rechargeable battery

The unit battery is recharged using a mains (230/110 VAC) or the vehicle (12V) charger – both
supplied. Remaining charge is shown.


EASA Certified

In EU the DBI is JTSO-certified and holds a STC approval for usage in Hot Air Balloons within European Union by EASA the 1st October 2003.


The Choice of Champions

World champions Markus Pieper and Uwe Schneider both fly with the DBI-002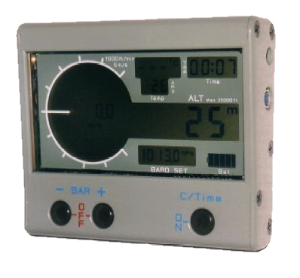 Please contact us for more details or to arrange for a demo of the DBI-002.