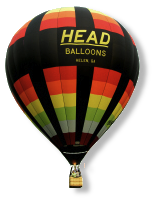 The
HEAD
Balloons' system has been refined over many years of ballooning experience. Each balloon is individually custom built to your design, utilizing the most rugged materials available today. The
HEAD
envelope shape is aesthetically pleasing and lends itself well to artwork.
HEAD
's use of modular design makes for a safer balloon as well as for easy panel replacement, which reduces the cost of repairs. As a result of years of design and use, the HEAD baskets are luxuriously beautiful, strong and durable. And, all of this comfort and beauty does not have to be babied. The baskets are strong enough for commercial work, yet they are light enough for the weekend pilot.
HEAD
's DURA-WEAVE™ and ENDURO-FRAME™ roll cage basket construction, make the
HEAD
basket the most durable basket available in the industry today. The
HEAD
DBII™ burner system is a redundant burner system built into one housing. The use of multiple orifice technology makes the DBII an efficient, yet quiet burner.
Hand Crafted, Quality, Ruggedness and Reliability have come to be the trademarks of HEAD Balloons. Since all of our balloons are individually custom crafted,
HEAD
Balloons can give each customer the type of individual attention that no one else can offer. From the crown line to the skids, high quality materials with attention to details, assure hundreds of safe and dependable flights.